Happy Saturday everyone! Hope you have lovely things planned for the weekend. I have one of my best friends visiting from Hong Kong. We have a lot of fun things planned, including a lot of shopping (alas only for her, not me).
As mentioned previously, I am saving up furiously for my end-of-year Asian trip but please indulge me while I show you items that are high on my wish list this week:
This blazer:
While some of my other Zara items are of questionable quality, the jackets I have have held up amazingly well. This wool/faux-leather option is so chic. I would wear it as I would wear my leather jacket - with skinnies, pencil skirts, shifts, mini skirts etc. The blazer is not online yet but you can sign up on the product page to receive notifications when it is available for purchase.
These pants: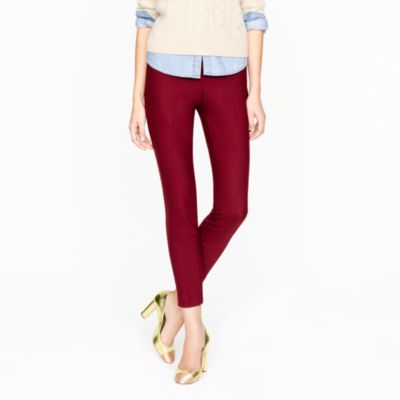 Yeahhhh these J Crew Minnies have been talked to death on other blogs but I genuinely like them. I have a pair of the cotton twill Minnies in Navy and have worn them at least twice a week since purchasing them a month ago. They are very flattering and this season's wool pair will be a great way to embrace the oxblood

(awful word by the way)

trend, I am thisclose to ordering these while the 25% promo is on till the end of today.
These boots:
I am usually not a fan of suede since I don't have the patience to care for them properly. I like these Target boots because they are faux-suede and have a 3" heel - perfect for walking the grimy streets of New York plus I won't be too upset if I wreck them prematurely. For the rest of today, Target is offering a $15 gift card with every $75 purchase. These boots are so cheap, I actually have to chuck these chelsea boots in 2 colours to my cart to get to the threshold ;)
Are any of these on your wish list too? Let me know and have a great rest of the weekend!